"Adrian kissed like he was in charge. Like he expected to be the one in charge. And something inside Noah opened up and said yes. Yes, in a way he'd never been able to before. Yes, with a thousand small exhales. Yes, with his lips parting, welcoming Adrian's tongue, welcoming Adrian taking over his mouth, taking over his person."
This book made me so, so happy!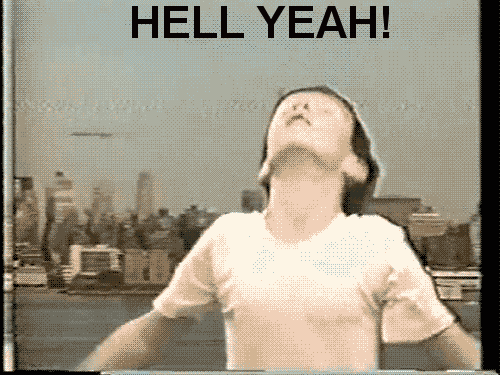 And not just happy as in "this was such a sweet and well-written story and I had a great time reading it" happy, but as in "this book made me fall so hard for its MCs and their crazy ass chemistry and gave me all the fuzzy feels that I had a constant grin on my face" happy.
Noah and Adrian - though being so very different from their upbringing and their own personal dealings with being gay - just felt right together from the start. They both gave each other so much and they were both just so genuinely nice and good-hearted people that I couldn't help but root for them to fall in love and get their HEA.
This story ticked so many of my boxes:
ga(y)mers
men with dogs
a spontaneous RV road trip
a hipster
a virgin
And cuddling. Sweet Baby Jesus, so much cuddling.
Usually, when I read "35-year-old virgin", this is my initial reaction:
So kudos to Annabeth Albert's mad writing skills to make this part of Noah's background absolutely believable and comprehensible to me.
The building trust between Adrian and Noah was a delight to witness and each step of their relationship was a joy to get lost in. I loved how Noah finally came out of his shell and how Adrian was so sweet and patient with him.
Oh, and you should totally get the audiobook. Sean Crisden already is a favorite narrator of mine, but once again he brought an already great book to a higher level with his performance.
I can't wait to reread this again. Perfect romance is perfect.
Highly, highly recommended!
Thanks to Julie & Marte for the BR!