"I call you Sunshine because when you smile, the sun comes out."
I'm a monogamy slut. There, I said it.
I'm not a fan of (sexual) ménages, three-ways or open relationships in my books. It's too much out of my comfort zone.
I want it all in my romances: the emotional connection between two soulmates, the "I want you and only you for as long as I live", the riding-into-the-sunset-together.
But leave it to Heidi Cullinan and my love for her writing and her characters that she made me believe that this kind of thing is not only what Sam and Mitch wanted, but it's what they needed.
Sam needs someone who understands his humiliation kink, his desire to feel like a dirty slut and and at the same time makes him not feel ashamed about it. Whereas Mitch needs someone who not only understands his voyeurism kink and his dark and dirty desires, but who also doesn't judge him for it. So BOOM - match made in heaven.
I admit, I will NEVER EVER be comfortable with statements like
"You could fuck six men in a row and let me watch or not, and I wouldn't care. To be honest, it really turns me on."
But that's just me and if it works for them, then
One word about Randy. A lot of my friends hated him in this book, so I was prepared to dislike him too. But he turned out to be my favorite character. I found him funny as fuck and I always have a soft spot for snarky and cynical characters. And it was him who turned out to be the catalyst that made Sam and Mitch recognize how much they needed each other and brought them together in the end.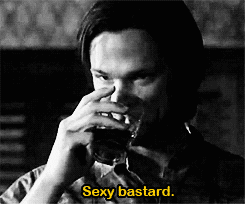 The only thing I didn't like was
(show spoiler)
So I definitely enjoyed this book and I can't wait to read Randy's story next.
Thanks to Julie for the BR.